Synthesis, Optical and D.C Electrical Characterization of (Pomegranate/PVA/TiO2) Ternary-Nanocomposites, As a Window to Improve Solar Cell Performance
Synthesis, Optical and D.C Electrical Characterization of (Pomegranate/PVA/TiO2) Ternary-Nanocomposites, As a Window to Improve Solar Cell Performance
Ameen alwan Mohaimeed

University of Babylon

Bahaa H. Rabee
Keywords:
Nanocomposite, D.C electrical properties, solar cell, polyvinyl alcohol, Titanium dioxide
Abstract
This paper aims to fabricate a nanocomposite made of polyvinyl alcohol, titanium dioxide, and natural pomegranate dye that can function as a sunlight sensor for solar cells. The thin films' structural, optical and electrical properties of (Pomegranate/PVA-TiO2) were studied. Images from (FE-SEM) taken at a concentration of 0.3 weight percent revealed the structural features of the material., the surface of the (Pomegranate/PVA-TiO2) nanocomposite films demonstrations many aggregations or chucks arbitrarily dispersed of (TiO2) with grain size (47-55) nm. With an increase in natural dye content, transmittance decreases. Pomegranate dye had the most prominent peaks, measuring (76%) at a concentration of 1 ml. All optical constants, including parameters such n and k for transparency and extinction, r and i for real and imaginary dielectric constants, and electrical conductivity for optical conductivity, rise with pomegranate dye concentration. The results showed that the electrical conductivity at a concentration of (4 ml) recorded the greatest possible (6.4×10-6) (Ω.cm)-1, and the activation energy decreased with increasing concentration of pomegranate dye (0.29-0.20) eV. Then a solar cell was prepared from SnO2/Si, and the films were deposited on it, and the efficiency results were. After being coated with (Pomegranate/PVA-TiO2) nanocomposites, the efficiency (ƞ) increased from (4.3-4.75). In addition to the increase in current (Isc) from 23 to 30 mA/cm2. The final results showed that the (Pomegranate/PVA-TiO2) nanocomposite possesses a high transmittance, low activation energy and is sensitive to light in the Vis and IR regions, making it suitable for optical application.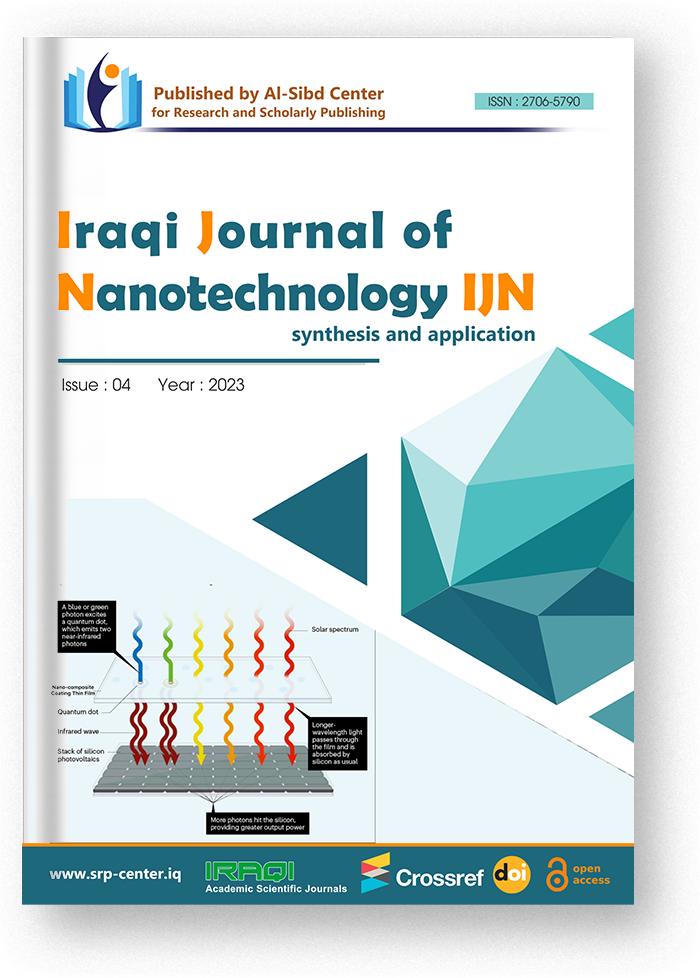 How to Cite
Mohaimeed, A. alwan, & Bahaa H. Rabee. (2023). Synthesis, Optical and D.C Electrical Characterization of (Pomegranate/PVA/TiO2) Ternary-Nanocomposites, As a Window to Improve Solar Cell Performance. Iraqi Journal of Natural Sciences and Nanotechnology, 4, 64-75. https://doi.org/10.47758/ijn.v4i0.91
Copyright (c) 2023 Iraqi Journal of Nanotechnology
This work is licensed under a Creative Commons Attribution-NonCommercial-NoDerivatives 4.0 International License.