ZnO and TiO2/PVA Nanoparticle Additives Effect on the Adhesion Properties and Biological Activity of Dyes and Epoxy
Jafer Fahdel Odah

AL-Karkh university of science

Mohammad H. Al-Dharob

Ammar Abdullah Hamad

Ahmed Younis

Nada Hussain

Ruba Abdul Rasul Ahmed

Raya Abdul Ameer
Keywords:
Local paints, Zinc oxide, Titanium dioxide, Nanoparticles, Biological efficiency
Abstract
Zinc oxide nanoparticles with PVA were used as additives for improving the specifications of the Iraqi dyes produced in the Modern Paints Company) D-5800 SFFA, epoxy for the inside drinking water tanks, D-5547 A-9101, lead food epoxy D-5544SFA-12 and transparent food epoxy primer (G-5900) that suffer from poor adhesion, peeling ability and decreasing in biological activity after a period of time, as the following: 4g of PVA was dissolved in 100mL of deionized water (DI) using a magnetic stirrer for 1 hour at 60°C, followed by the addition of 0.6g of ZnO NPs with a stirrer for 1 hour at 60°C. The temperature of this solution was allowed to drop to room temperature. Other samples were also prepared in the same way, using ZnO and TiO2 in a 1:1 ratio. The included, the tests for adhesion ability, biological effectiveness and time-acceleration weathering of the coating were carried out. Experimental results on a gypsum (Bork) piece coated with nano-coating over a period of more than six months showed an increase in adhesion ability of over 160% for some samples, along with an increase in biological activity, such as (E. coli and ST aureuse).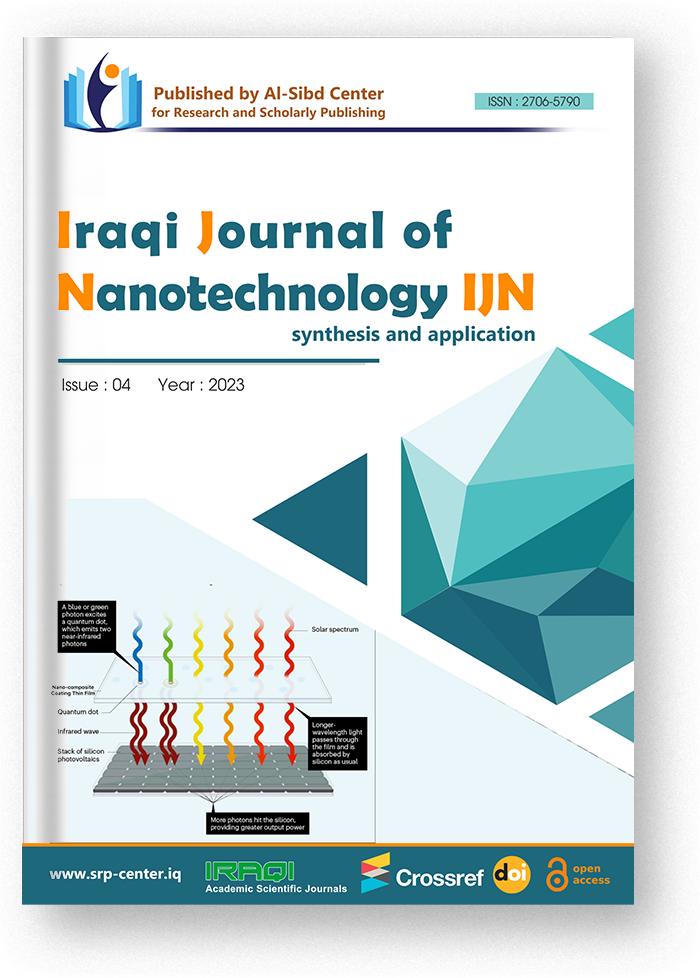 How to Cite
Fahdel Odah, J., Al-Dharob, M. H., Hamad, A. A., Younis, A., Hussain, N., Ahmed, R. A. R., & Abdul Ameer, R. (2023). ZnO and TiO2/PVA Nanoparticle Additives Effect on the Adhesion Properties and Biological Activity of Dyes and Epoxy . Iraqi Journal of Natural Sciences and Nanotechnology, 4, 104-112. https://doi.org/10.47758/ijn.v4i0.84
Copyright (c) 2023 Iraqi Journal of Nanotechnology
This work is licensed under a Creative Commons Attribution-NonCommercial-NoDerivatives 4.0 International License.