The Study the Influence of TiO2-Nanoparticles Doped in Polyvinyl Alcohol by Measuring Optical Properties of PVA Films
Ameen alwan Mohaimeed

University of Babylon
Keywords:
(PVA-TiO2) Film, Casting Method, Optical Properties, Nanocomposites
Abstract
It was investigated how titanium dioxide nanoparticles affected the optical properties of polyvinyl alcohol. Polymer nanocomposites (PVA-TiO2) are created via stirring and casting. The results demonstrate that transmittance improves from 75% to 95% while titanium dioxide concentration enhances the absorbance of nanocomposites. Nanocomposite films made of PVA and TiO2 had reflectance values of 12 and 16 percent (weight percent=0.15 and 0.85%).The refractive index and coefficient of extinction rise with increasing density, and optical absorption and photon dispersion in the nanocomposite (PVA-TiO2) also rise as the concentration of titanium dioxide nanoparticles rises. Real dielectric (r) and imaginary dielectric I constants also rise as titanium dioxide nanoparticle concentration does. The results show that when the weight % of (TiO2) nanoparticles increased, the energy gap decreased from 3.32 to 2.23. Additionally, optical conductivity increased with the concentration of (TiO2) NPs. Nanocomposites of PVA and TiO2 are essential for optical applications.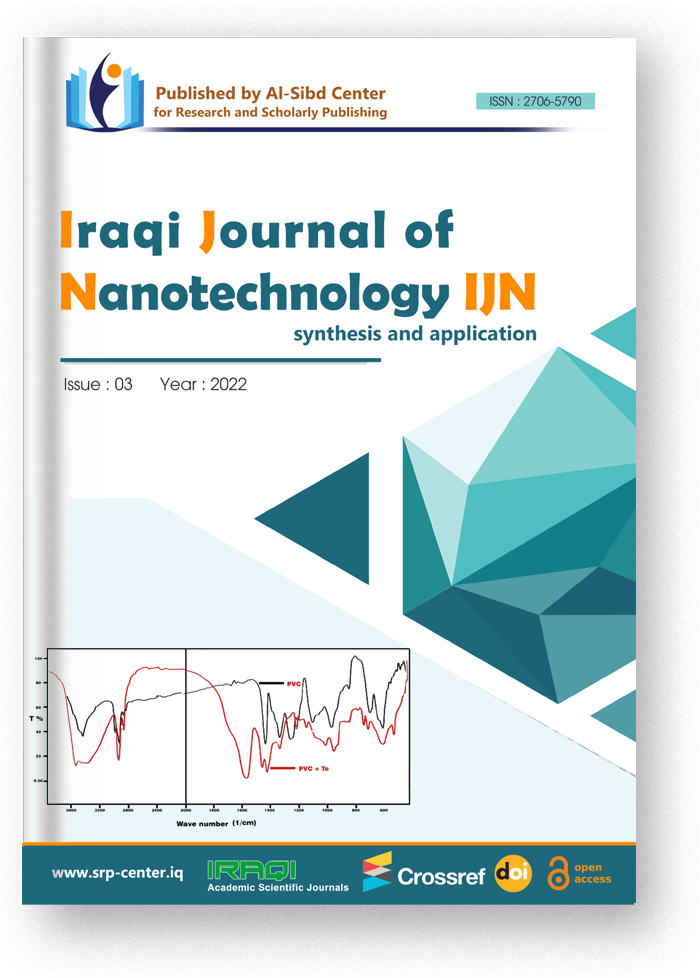 How to Cite
Mohaimeed, A. alwan. (2022). The Study the Influence of TiO2-Nanoparticles Doped in Polyvinyl Alcohol by Measuring Optical Properties of PVA Films. Iraqi Journal of Natural Sciences and Nanotechnology, 3, 59-70. https://doi.org/10.47758/ijn.vi3.62
Copyright (c) 2022 Iraqi Journal of Nanotechnology
This work is licensed under a Creative Commons Attribution-NonCommercial-NoDerivatives 4.0 International License.