Using ZnO/PMMA Nanocomposite Coating to Improve the Polycrystalline Solar Cell in Hot Weather Conditions
Ali Al-Sailawi

Engineering technical college/ Najaf, Al - Furat Al- Awsat Technical University

Qahtan A Abed
Keywords:
Polycrystalline silicon PV cell, UV-mask, Thin film thermal regulation, ZnO/PMMA nanocomposite coating, Anti-reflection coating (ARC).
Abstract
Solar energy is the most significant future energy source as the world keeps working to minimize emissions caused by the use of fossil fuels. The most popular method for transforming sunlight into electrical energy is the photovoltaic solar cell (PV). The main two problems with PV solar cells highlighted in this paper are the high solar cell surface temperature and the high reflection light of PV solar cells. Because each 1 °C increase in surface temperature reduces efficiency by 0.45%, and approximately 35% of total sunlight reflected in crystalline silicon solar cells. In this experimental work, the sol-gel process was used to prepare different concentrations of zinc oxide/polymethyl methacrylate (ZnO/PMMA) nanocomposite coatings and apply them to the top side of the polycrystalline solar cell in order to increase the solar cell efficiency. The results demonstrate a maximum temperature drop of 8.6 ºC and light reflection reduced up to 5.6%, so this led to an increase in solar cell efficiency from (11.33%) to (15.22%), where the results of the electrical properties after one hour (test time) showed that the uncoated cell was (ISC = 0.33 A, VOC = 0.38 V, and Pmax = 97 mW), while the results of the coated cell with the best concentration (3.875 wt%) were (ISC = 0.36 A, VOC = 0.43 V, and Pmax = 130 mW).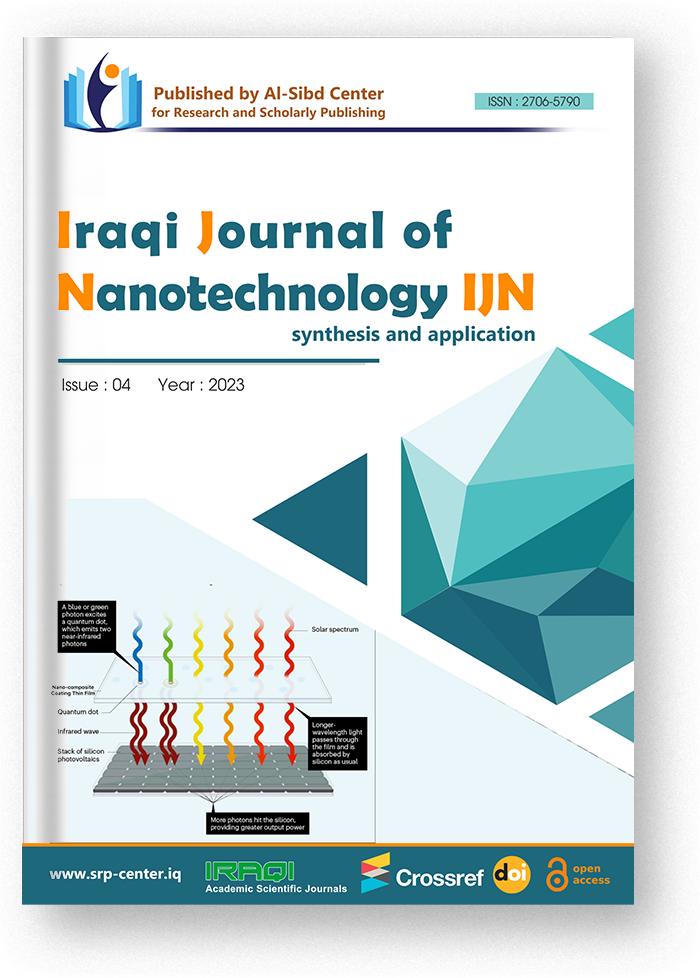 How to Cite
Al-Sailawi, A., & Qahtan A Abed. (2023). Using ZnO/PMMA Nanocomposite Coating to Improve the Polycrystalline Solar Cell in Hot Weather Conditions. Iraqi Journal of Natural Sciences and Nanotechnology, 4, 9-27. https://doi.org/10.47758/ijn.v4i0.102
Copyright (c) 2023 Iraqi Journal of Nanotechnology
This work is licensed under a Creative Commons Attribution-NonCommercial-NoDerivatives 4.0 International License.